Hey guys! Today we're going to take a look at two World on Fire builds that I like to use on Ember and switch between them based on what I'm doing.
Ember World On Fire Build (Firequake Augment)
Let's kick it off with build number one which is focused on the Firequake Augment. And this one is running Corrosive Projection for its Aura for two reasons: number one heat damage isn't great versus armor so reducing it is really good and number two Energy Siphon gets deactivated during World on Fire. But then again if you want to run another Aura there's nothing stopping you.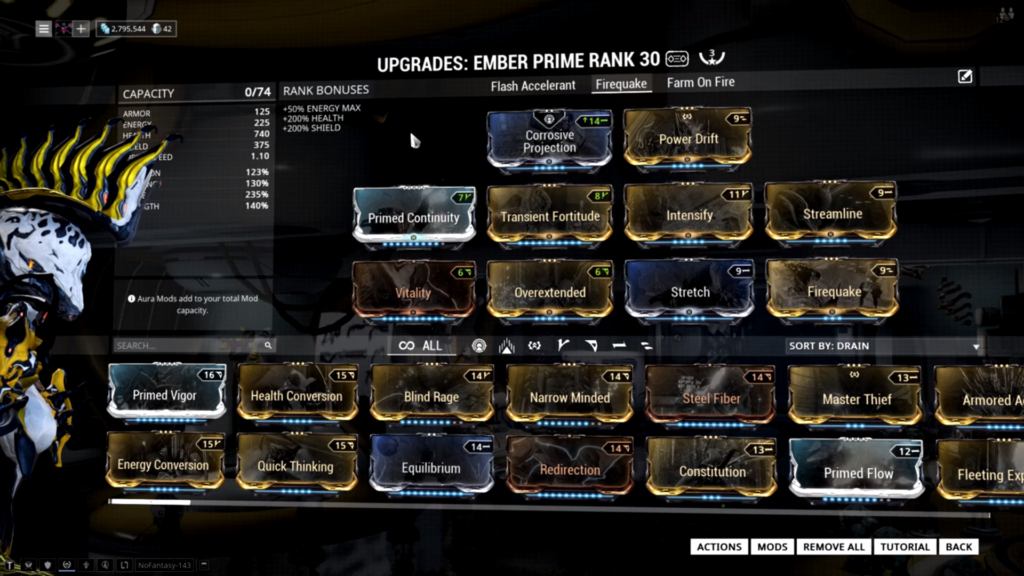 Now, when it comes to the mods I am first of all using Primed Continuity to balance out Transient Fortitude which kills a little bit of duration and if you don't have the prime version the normal version is just fine. And this is to help reduce the energy drain from World on Fire. Then I'm running Transient Fortitude with Intensify and Power Drift for 200% power strength because I'm running Overextended which reduces it by 60 and I still wanted this to do decent damage. And I found that this was enough for the Star Chart and once you get into Sorties Firequake is going to take over and you're going to get crowd control instead. Then to reduce the energy drain even further and to also reduce the initial cost on World on Fire I'm using Streamline and since this is a Firequake build I am then using Firequake which makes it so that whenever an enemy is hit by World on Fire they'll be knocked down and this does open them up to ground finisher. So, we can combo it with like Prisma Obex with the Entropy Detonation Augment and get some nice damage out of it as well. I'm then using Stretch and Overextended for a stupid amount of range and I know a lot of people don't like Overextended on these kinds of builds. The reason I use it is because if you're playing a normal mission it will pretty much knock enemies down before you see them. So, if you run into a room chances are the enemies are already on the ground which is awesome especially in high-level missions where a single bombard could easily one-shot you. And finally, we top it off with a defensive mode of your choice. I'm personally using Vitality.
Now one thing to bear in mind here is that everyone mods World on Fire differently. Some people like more range some people like less some people like more strength some people like less and yada yada yada. So while you can just copy the build and it's going to work just fine you might want to try other ones and see which one you like the most or you can just copy this build and then tweak it afterward until you find something that you like. It also depends on what kind of content you want to do with it. I personally really enjoyed this setup in the Plains of Eidolon just farming bounties. It's really good for those. It has more than enough damage to kill everything in the low-level bounties so those are a breeze and once you start going up in levels Firequake is going to kick in and you're going to get a lot of crowd control over a pretty big area which is important in the Plains because the enemies are spread much farther apart here. Though it is much better if you're doing bounties during the day because if you're doing them during the night you will constantly have to hack Eidolon Lures because they are still a valid target for World on Fire even if you take them down so it will hit them instead of the enemies. And then, of course, there are sorties which is what this build was originally made for and this World on Fire Build is just fantastic because it's keeping everything locked down.
Ember World On Fire Build (for farming)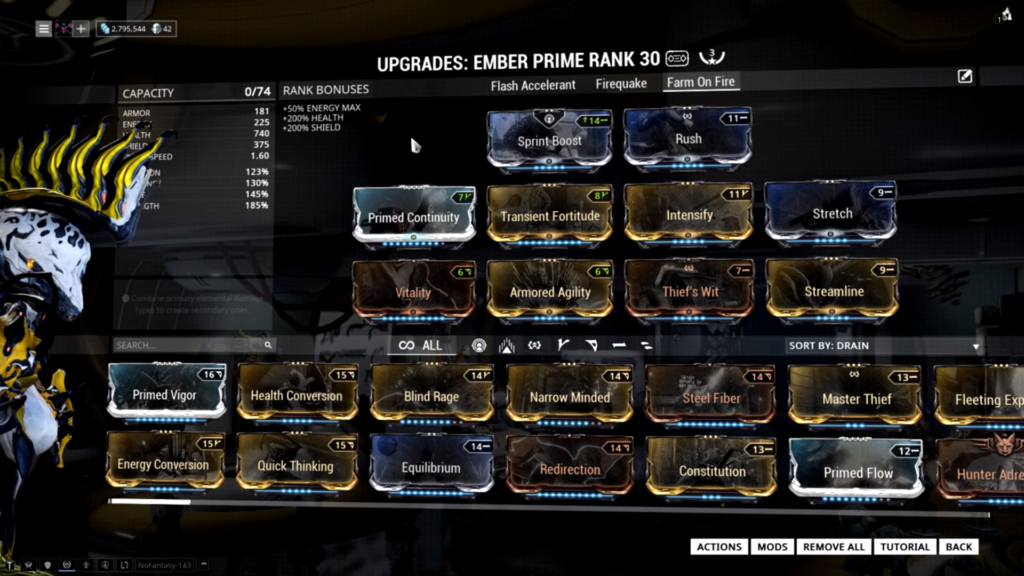 And finally, we have another Ember World on Fire Build which is focused more towards farming resources, Ayatan Sculptures, and medallions. And for this Ember Build I wanted a lot of sprint speed so I'm running Sprint Boost in my Aura and Rush in my exilus slot. Then I'm once again running Primed Continuity to balance out Transient Fortitude which with Intensify gives me 185% power strength this is more than on the previous build and it's just to guarantee that I'm going to kill everything on the Star Chart. Then I'm running Stretch I didn't want to go for Overextended or something like that because I don't need a ton of range I just want to kill enemies that are basically within my line of sight as I'm farming. And then I'm once again running Streamline which is going to reduce the initial cost of World on Fire and it's also going to reduce the energy drain. I'm also running Thief's Wit which is going to give me 42 meters of loot radar which is fantastic because I can just open the big map and see resource, deposits, containers, and stuff like that. After that, I'm using Armored Agility here for even more Sprint Speed and a little bit of extra armor. And finally, Vitality but you can use whatever you want. And there is no much also say about this build really because it's kind of similar to the previous one it just has different stat values. It has a less range more damage and it doesn't have the additional crowd control from the quake. Though it doesn't lose all the crowd control because it still sets enemies on fire. So, they're going to fly all around for a bit. It's just a really simple build you get into a mission you pop World on Fire you open up the big map and you're running from a container to container breaking everything getting loads of resources while World on Fire kills all the enemies. And it is effective around the entire Star Chart. You can go onto Sedna with that you can go onto Pluto. It doesn't really matter and that's pretty much it for the build. So, I thank you very much for reading as always. I hope you've enjoyed these Ember builds and it was helpful and I will see you next time. Bye-bye.